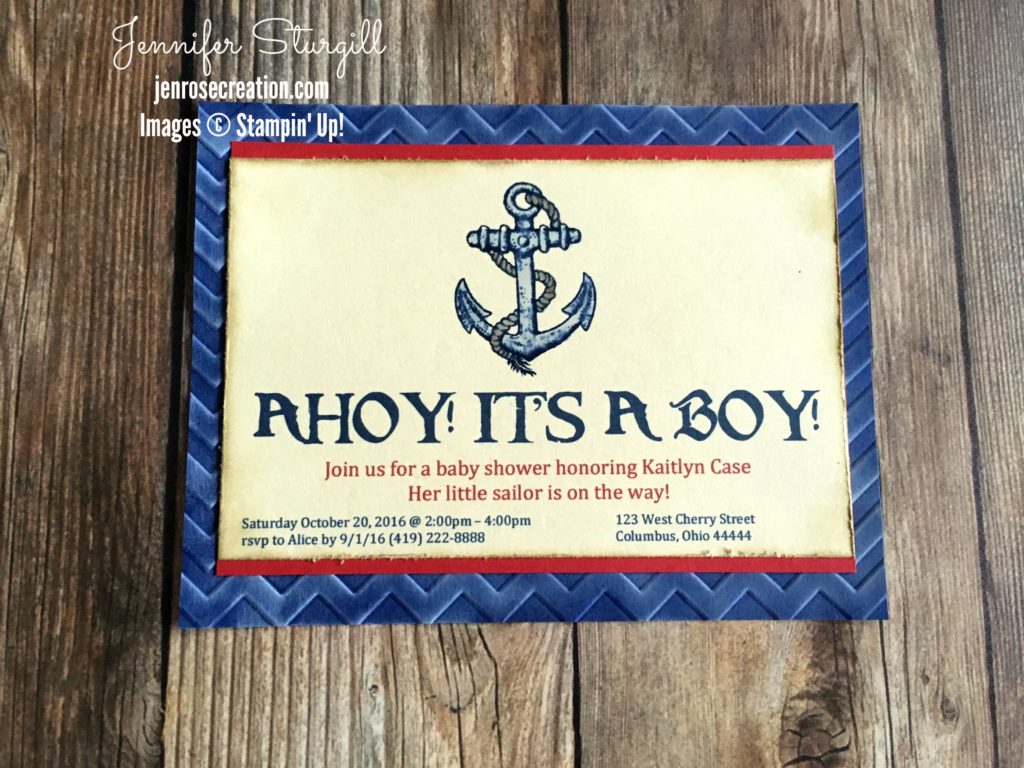 Hello everyone!  I wanted to share with you something I have been working on lately.  I recently finished making a bunch of baby shower invites for a customer, all info on the invite shown is fake just for sample/online sharing.  These invites use some current and retired products and was specifically designed per the customer's wants.  She approached me and said she wanted something with blue, chevron, an anchor, and "Ahoy! It's a boy!" but wasn't liking what she saw available for purchase online.
Have you ever looked at invites, cards, etc. online and said "I want something more than that" or "I could do better".  Well, with Stampin' Up! you have that chance to custom design items to fit your tastes.
Something you might not know about me is that I am a big Disney fan!  I like to print things out for my scrapbooks that matches the fonts used at Disney.  Having these fonts came in extremely handy for these invites.  I used the font from Pirates of the Caribbean for the "Ahoy! It's A Boy!" on this invite.  I printed out the shower details onto Very Vanilla Cardstock and then cut it down to 3-1/4″ x 5″.
The anchor was stamped in Night of Navy ink and then I quickly used a blender pen to pull some of the ink to color it in.  The rope was colored in with Sahara Sand Stampin' Write Marker and Crumb Cake Stampin' Write Marker for some depth.  I sponged Crumb Cake ink around the edges and distressed them before adhering to a 3-1/2″ x 5″ piece of Real Red Cardstock.  Tip: Don't go over an area too much with a blender pen or the paper can start to pill up.
The Night of Navy Cardstock was embossed with the Retired Chevron embossing folder and then Craft Whisper White was sponged over the top to create a more distressed/nautical look.  Allow time for the craft ink to dry before adhering the invite all together.  Tip: I used the Sponge Dauber for this step to get a more controlled application.
I love that Stampin' Up! has a wide array of products so you can make just about anything you can think up.
Happy Stamping!
~Jen
Be sure to check out the Special Offers available through Thursday, September 15th to save 25% off and the new items added to the Clearance Rack today with savings up to 60% off.  Items are selling out quickly, so grab yours before they are gone.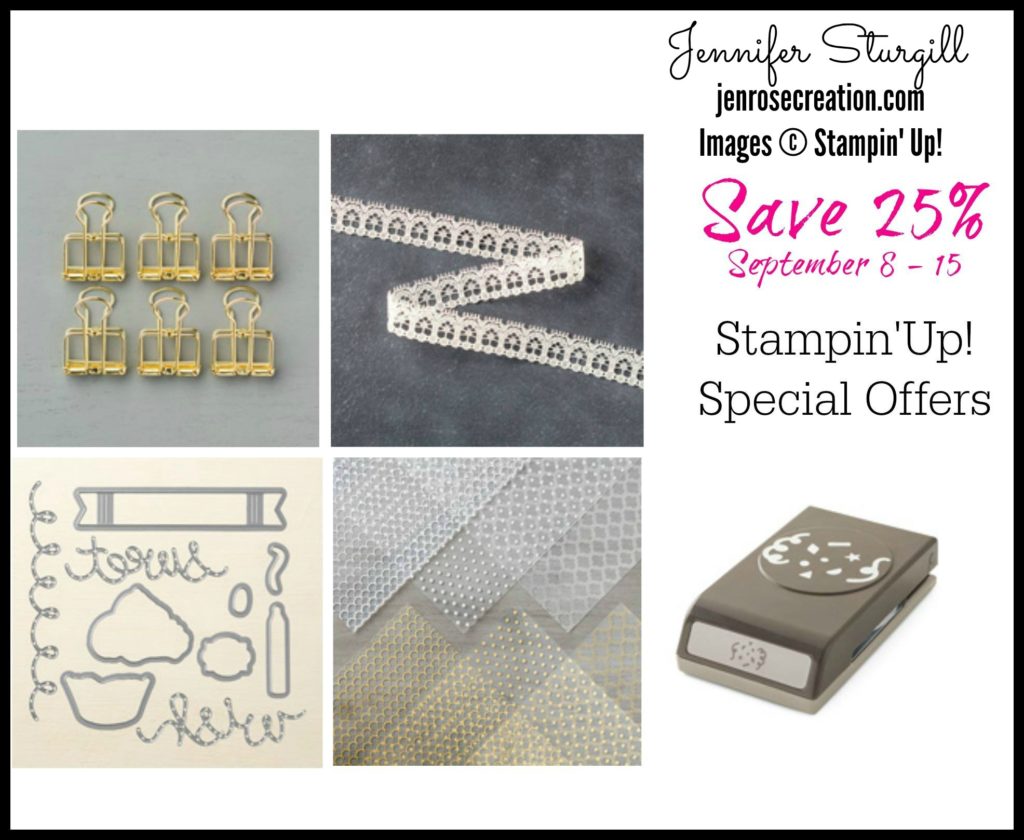 Do you love getting a good deal?  Do you want to get your Stampin' Up! products at a discount?  The best Stampin' Up! deal is to become a Stampin' Up! discount purchaser by getting our Starter Kit.  It is the Ultimate Stampin' Up! bundle!  $125 in product of your choice for only $99.  There are zero requirements, option to sell if you want, and the kit ships for free!!  AWESOME!!
You can email me at jennifer@jenrosecreation.com with any questions.  You can click HERE if you are ready to become a discount purchaser.
Stampin' Up! Supply List:  Please click on the Stampin' Up! product below for more information, and for quick and easy online shopping experience with me.