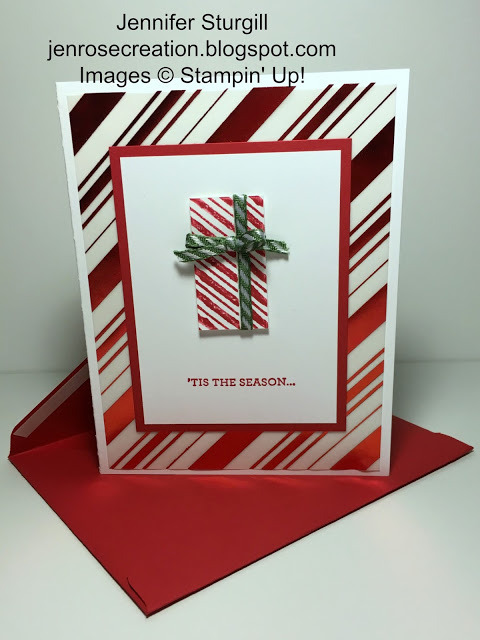 The present was created using the kissing technique. I inked up the solid present image in the size I wanted and then pressed (or kissed) it to the striped stamp. Pressing the stamps together removed some ink on the solid image creating the stripes. Then stamp down the original stamp onto the Whisper White cardstock.
The Real Red paper is left overs from when I cut the Real Red Envelope paper down to make the envelope. I only needed a 8″ x 8″ piece to make the envelope, so I made good use of the scraps and used it for the matting on this card.
The ribbon is not actually wrapped around the present, it is just made to look like it. I adhered the two strips of ribbon to the back using Glue Dots. To finish it off, I adhered the box to the small piece of ribbon using another Glue Dot.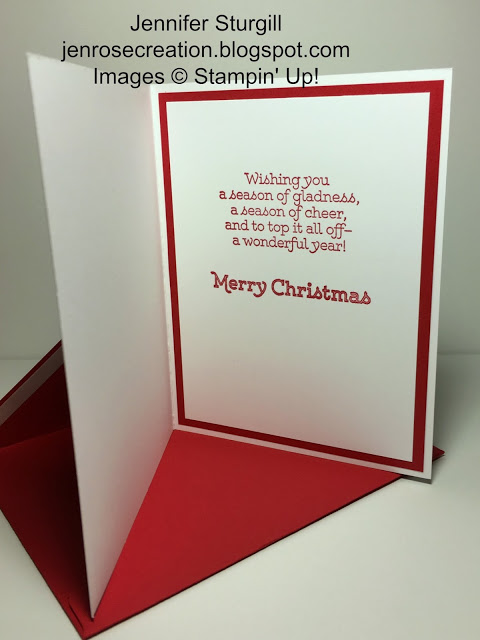 Join my Stampin' Up! Team: For just $99, you get your choice of up to $125 worth of any current Stampin' Up! products!! You can email me at jenrose.sturgill@gmail.com if you want more information about joining with me. You can click HERE if you are ready to sign up.
Stampin' Up! Supply List: Please click on the Stampin' Up! product below for more information, and for quick and easy online shopping experience with me.