Yesterday, I posted the Mickey and Minnie Mouse Curvy Keepsake Boxes I made. Today, I was asked by a big Garfield fan if I would be able to create one in the shape of Garfield. Challenge accepted. 🙂
Here is what I came up with: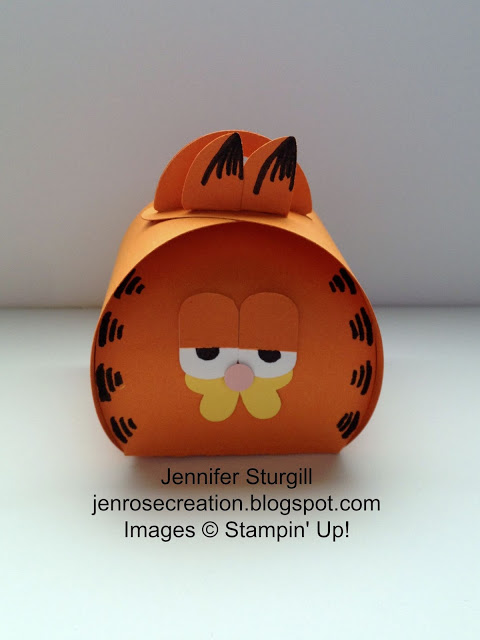 I used the heart punch from Itty Bitty Accents Punch Pack to make 2 hearts for the mouth using Daffodil Delight cardstock.
The nose is punched from Blushing Bride cardstock with the 1/4″ Circle Punch.
The eyes were cut out and layered in Pumpkin Pie and Whisper White cardstock using the 3/4″ Circle Punch. I trimmed the Pumpkin Pie so not much of the white was showing. I also cut a little off each side of the circle so it was more oblong.
The pupils, stripes, and ears were created with the Basic Black Stampin' Write Marker.
The ears were cut from the Bow Builder Punch. I cut out the bow tail twice and cut it down the middle, rounding it a little to create the pointed ears.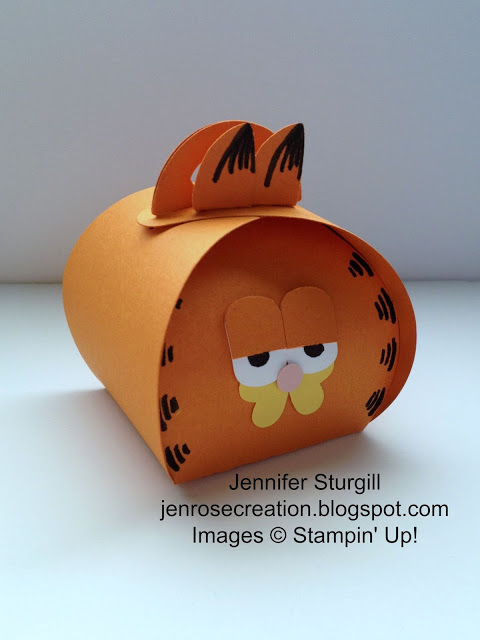 The ears were adhered together with a slight overlap, onto one side of the Curvy Keepsake box. This allows for the box to still be opened and closed.


Join my Stampin' Up! Team: For just $99, you get your choice of up to $125 worth of any current Stampin' Up! products!! You can email me at jenrose.sturgill@gmail.com if you want more information about joining with me. You can click HERE if you are ready to sign up.
Stampin' Up! Supply List: Please click on the Stampin' Up! product below for more information, and for quick and easy online shopping experience with me.